COVID-19 pandemic, the challenging capital-markets climate in biotech, and a more innovative and specialty treatment focus has increased reliance on the finance arm as a key strategic cog.
Over the past three years, the pharmaceutical industry has gone through several impactful changes. During the early months of the COVID-19 pandemic, investors flooded the industry with money, allowing new companies to emerge and conduct multiple rounds of clinical trials while still being confident that more funding would be available. Over the past year, however, things have changed and funding is harder to come by. This has put the role of chief financial officer in the spotlight.
Morgan Brown is CFO at Clene, a clinical-stage biopharmaceutical company working on treatments for neurodegenerative diseases. According to Brown, life sciences organizations are searching for new qualities in CFOs.
"Companies are looking for more contribution from the finance team on the whole, and the CFO specifically to be more strategic in nature, to really partner with the other c-suite executives and help them effectively operate the business," he says.
Brown also elaborates on how the changing industry is impacting the role of the CFO in ways not directly connected to finance. "Although not specifically related to CFOs, I think the distribution of drugs isn't going to be the same old retail-pharmacy model that we've seen in the past," he explains. "It's going to be more innovative and specialty pharmacy-based and at-home delivery."
Justin Thacker, CFO at Aristea Therapeutics, says that the role has changed quite a bit over the past three years, with the past 12 months impacting the job significantly. "With the pandemic, obviously, working remotely has changed significantly for me and the teams that I've been involved with," he tells Pharm Exec. "[Though] we were always moving to more automation, the pandemic pushed that along quite rapidly."
Shane Kovacs, CFO and chief operating officer at Olema Oncology, believes there's been a "dramatic shift in the tone of the capital markets as it relates to the biotech sector." This can have big implications for CFOs since access to capital plays a large role in the success of biotech companies, Kovacs notes, and the past decade saw one of the largest booms the biotech sector has ever seen. Unfortunately, things have changed over the past 12 months.
"[As] we have witnessed across many historical periods of enthusiastic expansion in other industries, the pendulum likely swung too far in the positive direction by early 2021," he says. "There were many examples of new companies being formed by licensing technology and IP out of academia that then catalyzed on the relatively easy access to capital with successive private-round financings followed quickly by an IPO. Pre-money valuations for biotech IPOs that historically struggled to achieve the $200 million mark were now going public with valuations exceeding $500 million and, in some cases, greater-than-$1 billion unicorn valuations."
Kovacs explains that these companies were able to grow very quickly due to having access to the capital.
Pharm Exec financial columnist and Editorial Advisory Board member Barbara Ryan recently described how the biotech industry peaked with investors in early 2021. The previous year, biotech and biotech IPOs provided consistently large returns for investors. Since that time, however, the biotech industry entered the longest bear market in its history, leaving many companies struggling to find further funding.
Investors are learning the difference between biotech and the tech industry, Kovacs points out. New technologies must undergo periods of trial and tribulation before being approved, and many new biotechnologies never make it to the approval stage. This creates a much longer business cycle than the tech industry and requires more capital before becoming cash-flow positive.
"Over the past 12 months, we have, unfortunately, seen a complete reversal of this investor enthusiasm for the biotech sector," says Kovacs. "Valuations are now at all-time lows with many companies trading at or even below their cash balances. New equity offerings and IPOs have fallen off a cliff. The big question looming over the heads of biotech boards and management teams is, 'How long will this last?'"
Shoreline Biosciences' CFO, Vanessa Jacoby, notices similar trends as well."With the volatility of the market, I think capital is becoming sparser and you have to, again, navigate the trade-offs," she tells Pharm Exec. "What is important to your organization? How do you focus? What are the products that are more likely to make it to the clinic, and what are the unmet needs that we're trying to solve here?"
According to Jacoby, due to the volatility of the markets, CFOs are focused on making sure that their companies are well-resourced and can deliver the goals of the wider organization. Even if the markets become less volatile, those goals will remain the same.
She adds that the pandemic likely caused a good amount of capital to flood the industry. Over the past months, however, interests have changed, and she believes that many generalist investors have moved on to different sectors.
"It's a cyclical process," says Jacoby. "You have a lot of resources, and then they decline, and you have to do the best that you can, always with the goal in mind to bring drugs to patients."
Another record year for biopharma financings bodes well for 2022
In another record year for biopharma fundraisings, more money than ever pulsed through the industry. The volume and value of pharma IPOs and venture capital financings are at their highest levels. Private financings for 2021 easily outdistanced those from 2020, much of it powered by SPACs. Where is it all going in 2022? Two experts joined BioWorld to share their thoughts. Kleanthis Xanthopoulos is a co-founder and executive chairman of Shoreline Biosciences. For more than 20 years he's been an executive, company founder, CEO, investor and board member in biopharma research. Also joining the discussion was Joe Hernandez, CEO and executive chairman of Blue Water Vaccines, who founded or led eight health care and pharmaceuticals companies.
Natural killer cells, the body's first line of defence against emerging cancers, could be engineered into powerful, off-the-shelf cancer therapies.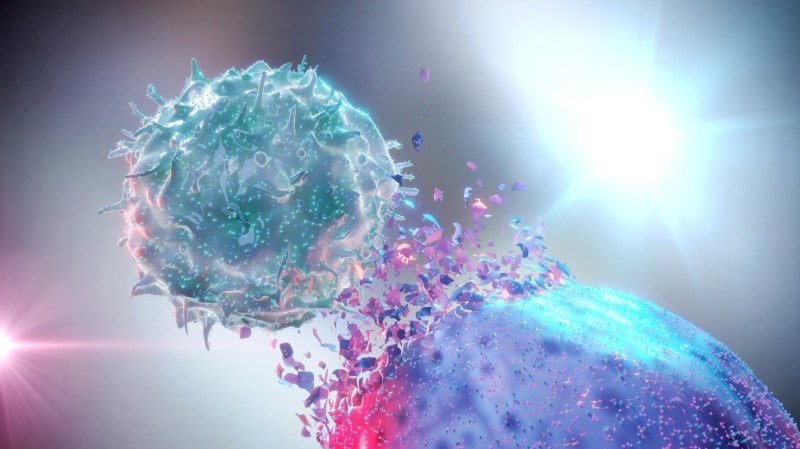 Billions of highly trained killers are flowing through your fingers right now. They patrol your internal organs, guard the tissues under your skin against invaders, and wipe out virus-infected cells. They remain vigilant against cancer — recognising and destroying the early signs of tumours before they can gain a foothold.
These tiny terminators, called natural killer (NK) cells, are one of the body's strongest defences against illness and disease — and yet the hundreds of billions of NK cells in our own bodies sometimes aren't enough. Now researchers want to engineer NK cells as reinforcements, and store ranks of those reinforcement NK cells to be called up and deployed as needed (see 'Engineering a tumor killer'). They want to make these engineered NK cells available to cancer patients and others as living drugs, without having to personalize them for each patient, as is the case with other cell therapies.
"We want to make cells that work like drugs," says Dan Kaufman, a professor of regenerative medicine at the UC San Diego School of Medicine and co-founder and chief scientific officer of Shoreline Biosciences. "When you take a blood pressure medicine or a cholesterol medicine, everybody gets the same thing. You know the doses and it's standardized. Using these engineered NK cells, we can do that. We can make hundreds, or potentially thousands, of doses of these NK cells all the same and use them as off-the-shelf therapies."
Immunotherapy strategies
The idea builds on the success of so-called CAR-T cells, which are used as immunotherapies against several types of cancer. These cell-based therapies are based on a different immune component, called T cells. By collecting a patient's T cells, engineering them to make them more potent, and then infusing them into the body, scientists can supercharge the cancer-fighting ability of the patient's immune system. Five CAR-T cell therapies have been approved by the US Food and Drug Administration against several blood cancers.
NK cell immunotherapy has not yet reached that stage. "The natural killer cell approach in terms of cancer immunotherapy is newer, and rapidly gaining recognition," says Hans-Gustaf Ljunggren, who works on cell therapies at the Karolinska Institute in Stockholm, Sweden. "There are numerous clinical trials going on with various natural killer cell-based products."
Although there are clinical trials of NK cells in progress for multiple different blood cancers, nothing has been approved yet.1 "But it's not unlikely that we will see such products within the coming five years," Ljunggren says.
To help translate his own research on NK cells into commercial therapies, Kaufman co-founded Shoreline Biosciences. The company raised $43 million in financing earlier this year and entered into two partnerships with two immunotherapy companies, Kite Pharma and BeiGene, to develop novel cell therapies. The company recently concluded another round of financing that raised an additional $140 million.
One of the goals of NK cell therapies is to make them significantly cheaper than CAR-T cell treatments, Kaufman says. "It's very expensive to take out the T-cells, engineer them and give them back to each individual patient. It costs roughly half a million dollars to make the cells for one patient." The process also takes several weeks.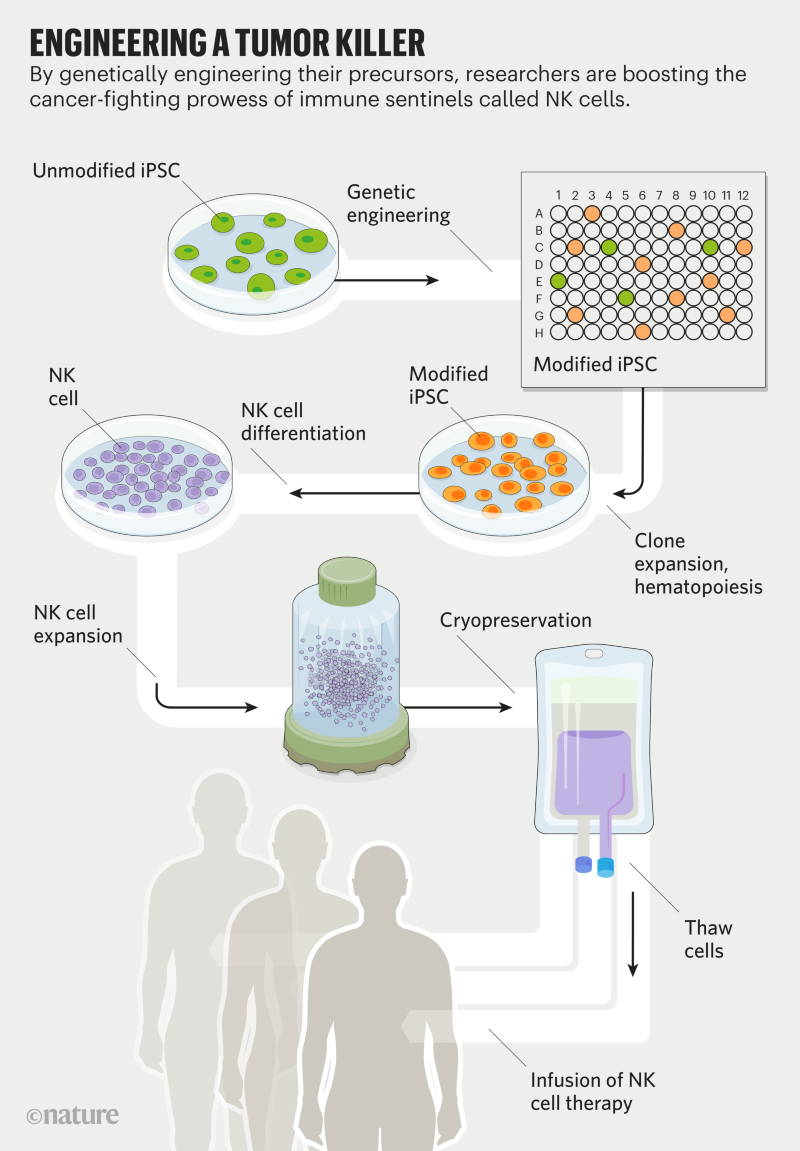 Innate fighters
NK cell therapies can be made more quickly and at lower cost because NK cells function in a different way. T cells are part of the adaptive immune system, the body's second line of defence against both viral infections and cancer. They are primed to recognise specific foreign proteins on the surface of a patient's own cells. Because T cells from one person recognize healthy cells from other people as foreign, only a patient's own T cells can be used as a therapy — hence the need to remove and engineer them at such cost.
NK cells work in the frontline innate immune response, in which they patrol the body and attack any cells that are not recognised as part of the host tissue. This more indiscriminate approach means that NK cells therapies can be sourced elsewhere and more easily given as a standard treatment to many different patients.
"You can essentially establish banks of hopefully potent NK cells that could then be distributed globally to be used for treatment of cancers," Ljunggren explains.
Because they do not need to be taken from a specific patient, Kaufman began developing NK cells for potential therapies from induced pluripotent stem (iPS) cells — skin or blood cells that have been reprogrammed back into an immature state that lets them develop into any other type of cell.
"Dan is one of the pioneers in the generation of the IPS derived NK cells," Ljunggren says. "And now IPS NK cells have become a very interesting and relatively new aspect of cell therapies."
Genetic manipulation
Besides being more universal, deriving the NK therapies from pluripotent stem cells brings another advantage. Manipulating the genome of the stem cells before they are converted to NK cells offers a reliable way to introduce genetic changes that could improve potential therapies.
When faced with attacking NK cells, cancer cell don't sit idly by. "We know there are ways that the tumour cells can sort of evolve to avoid the immune system," Kaufman says.
Kaufman's group has countered by engineering NK cells into better cancer fighters. "We can engineer these NK cells to provide additional mechanisms or more activated cells that seem to be able to overcome those barriers."
They have done this by knocking out a gene called CISH, which is involved in regulating cell-signalling molecules called cytokines. NK cells without the CISH gene are more sensitive to the cytokine IL-15, which leads to greater cell proliferation. As a result, the cells live longer inside the body and show enhanced anti-tumour activity.2
Trials ahead
Several challenges remain. Like CAR-T cells, NK cell therapies seem less effective against solid tumours. And because they are not based on host cells, the engineered NK cells can trigger an immune response, which tries to reject them. Researchers deal with that at present with doses of chemotherapy to suppress the host immune system. But Kaufman says they are also working on a new type of "stealth" NK cell that can evade host immunity.
"Can you also engineer these cells to avoid that immune response? That's a challenge for later," he says.
Shoreline has completed preclinical testing on a potential NK cell therapy for acute myeloid leukaemia. The company is now working on ways to manufacture the cells to the required clinical grade, and to test them for safety. That work is on track, Kaufman says, and trials will begin soon.
Explore the anticancer potential of engineered natural killer cells here.
References
1.




Liu, S. et al. J. Hematol Oncol 14, 7 (2021)

2.




Zhu, H. et al. Cell Stem Cell 27, 224–237 (2020)